The Value of Visual Communication: Inform, inspire and motivate audiences
In today's digital world, people receive significant amounts of information daily. Organizations compete for their audiences' attention alongside messages from other businesses, the news media and social media.
Strategic communication supported by strong visual elements helps organizations stand out, establish quick emotional connections and facilitate understanding by bridging the gap between concepts and words. Visual communication combines data visualization and graphic design to deliver information in a compelling way. It also uses various visual elements to develop a story and multiple formats to reach audiences.
---
• 1 •
Why visual communication is important for businesses
The constant influx of digital content has led to shorter attention spans and digital fatigue. Standing out in today's crowded digital marketplace is increasingly difficult — yet also increasingly crucial for businesses. The role of visual communication has never been more important, with research suggesting people connect to and remember messages more effectively when images accompany words.
The COVID-19 pandemic, which forever altered how and where employees work and how people make purchases, further amplified the need for visual communication. Organizations that previously had relied on traditional, face-to-face interactions with their employees, customers, partners and other audiences had to adapt quickly to communicate with them via digital channels. One recent study found that in 2020, the year the COVID-19 pandemic began, people more than doubled the amount of time they spent consuming content each day — from an average of three hours 17 minutes to six hours 59 minutes.
Visual elements including video, images and graphics — accompanying words successfully help cut through the digital clutter to inform, inspire and motivate audiences.
Visuals effectively create an emotional response, which is important since emotions are the basis for up to 80 percent of a person's decisions. Organizations that deliver cohesive and audience-centric visual communication can build on these emotional connections to establish trust, encourage loyalty and shape positive brand experiences for diverse and global audiences.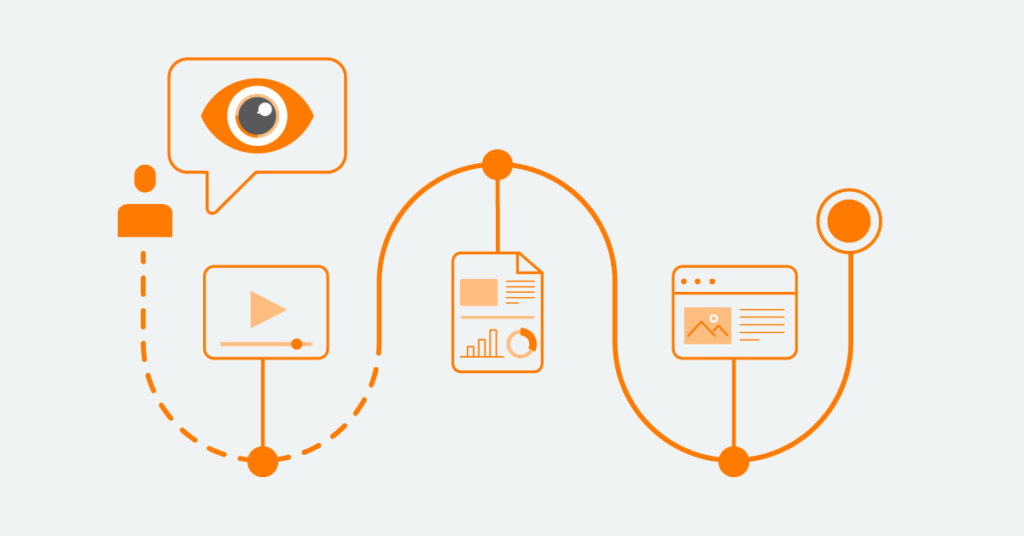 Thoughtful graphic design supports diverse audiences
Every organization has diverse audiences with different learning styles, cultural backgrounds and languages. Visual communication and graphic design have the unique ability to make communication more inclusive and accessible to these diverse audiences when thoughtfully and strategically executed.
Organizations should weigh the following considerations to effectively use visual elements to engage diverse audiences:
Does the meaning of these colors and symbols vary across cultures? Should we customize them for certain global regions?
Does our brand imagery represent the full diversity of our audiences?
Have we considered how this will appeal to all four learning styles (visual, auditory, reading/writing, kinesthetic)?
Do our images, fonts and colors meet accessibility standards? Are there opportunities for us to improve accessibility (e.g., including image descriptions with visuals shared across social media channels)?
Is this font color and size easy to read, and have we visually drawn attention to the most critical information?
How will these colors render for people with visual impairments?
Organizations that put the needs of their audience first can use visual communication to efficiently and effectively create meaning and build connections that impact the business in positive ways.
Business benefits of visual communication
2x better industry-benchmark growth
for companies in the top-quartile McKinsey Design Index
Source: McKinsey, The business value of design 2018
33% estimated revenue growth
if brands always presented themselves consistently
Source: Lucidpress, State of brand consistency 2019
+56% total returns to shareholders
for companies in the total-quartile McKinsey Design Index
Source: McKinsey, The business value of design 2018
67% of employees
are better at completing tasks when communications include videos or images rather than just plain text
Source: TechSmith, The Value of Visuals Report
$1,200 of productivity 
could be gained per employee if businesses used visual communication effectively
Source: TechSmith, The Value of Visuals Report
84% of people
were convinced to buy a product or service after watching a brand video
Source: Wyzowl, State of Video Marketing 2021
• 2 •
Visual communication supports your brand and corporate identity
Visual communication is important inside and outside organizations and across all channels the business uses to connect with its audiences. Graphic design and data visualization should be inherent to all organizational initiatives that require strategic communication, including: brand positioning, change management, strategic planning, workplace culture and digital engagement.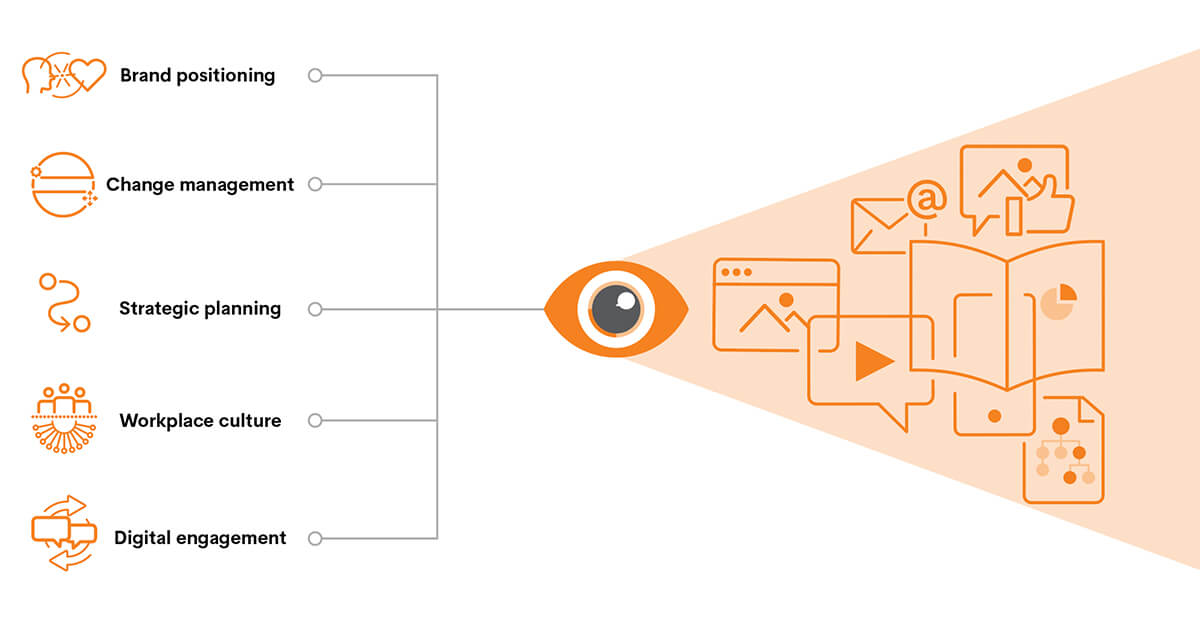 Visuals should help capture the audiences' attention and encourage action whenever an organization has an important story to tell, and especially when communicating complex information.
Use visual communication to support a strategic brand position
People often think of an organization's logo and brand marks when they think of branding. These visual elements are intended to capture attention, generate awareness and become memorable. However, the inspiration for these fundamental elements of brand identity begins long before graphic designers launch design software. Logos, colors, icons, typography, photography and brand marks should always support and elevate strategic, audience-centric brand positioning.
Organizations preparing to activate a corporate identity system should first complete strategic planning and brand positioning exercises to answer the following questions:
What are our purpose, mission and values? How can our visual branding support and reinforce them?
Which emotions do we want our brand to evoke? How can we use color theory to evoke these emotions and inform our design decisions?
What colors do our audiences expect to see associated with our industry? (For example, blue is commonly used in health care because it is calming and conveys trust.) How should we leverage these expectations but still design a differentiated visual experience?
Who are the key audiences, including customers, employees, partners and shareholders, that we must consider when creating our corporate identity?
What expectations do our key audiences have that could impact visual branding decisions? (e.g., how a brand appeals to a Gen Z audience versus a Baby Boomer audience may look different in its colors, icons and fonts)?
How are we different from our key competitors, and how will we bring this to life through design decisions?
A corporate identity system is much more than a well-executed logo with visually appealing colors and fonts. It must stand for something and align with the organization's purpose, mission and values in order to represent the brand with authenticity and evoke emotion with the intended audiences. Branding, like all visual communication, is a discipline and not an art. It requires designers, communicators and business leaders to put aside personal preferences to, instead, strategically make decisions about what visual elements will appeal and resonate best with the organization's audiences.
CASE STUDY  |  The Servion Group
Making a lasting impression with a new corporate identity system for The Servion Group.
A visual communication roadmap and clear guidelines ensured The Servion Group could implement the new brand with consistency across diverse channels. The new brand was successfully launched and immediately embraced by employees and clients.
Nurture a unified, positive workplace with visuals
Visual communication has the power to create a sense in employees of belonging, ownership and pride for their employers. Organizations can foster a sense of unity and strong workplace culture when they use visuals effectively to support internal programs or reinforce their purpose, mission and values. Strategically aligned visuals and graphics can help organizations:
Clarify their purpose, mission and values. Visual communication can take complex topics like purpose, mission and values and boil them down to simple formats, like a one-page visual report. A well-designed report can communicate these strategic business elements, help employees quickly understand them and clarify the employee's role in the organization's broader goal. These types of visual representations keep companies unified on strategy, ensuring everyone understands what they're working toward.
Reinforce and activate values. Organizations can promote and reinforce their values by visually demonstrating how each value is brought to life and consistently tying each value to its own design elements, like colors and icons. These symbols provide visual cues that, when properly executed, can evoke emotion and create a deeper understanding of each value. Custom visuals like emojis, stickers and branded swag can also support values and inspire a sense of company pride.
Guide employees through organizational initiatives. Creating a visual identity for corporate initiatives and programs helps employees sort through, understand and prioritize competing information. For example, an organization may activate a well-being program at the same time it's implementing a significant operational change. Unique icons, symbols and colors for the two initiatives will help employees recognize and differentiate them. Investing in a visual identity for internal initiatives also signals credibility and importance.
CASE STUDY  |  GEHA
Creating a transformational culture and bringing values to life.
Series of videos, workstation lock screens, intranet page and lanyard card
How visual communication can facilitate organizational change
Visual communication is also impactful when helping employees navigate organizational change. Visuals provide clarity and help convey evolving information. This could be as simple as a well-done org chart explaining leadership or restructuring changes, flowcharts or infographics that quickly convey complex information. Visual communication plays a significant role in change management communication, helping employees understand the why, what and how of a change and increasing the likelihood that employees will adopt the change themselves.
One change that nearly every organization has had to navigate recently is shifting to the new "work from anywhere" workplace shaped by the COVID-19 pandemic. Today's decentralized workforce requires more visual forms of communication to maintain a sense of workplace culture and unity and to keep engagement high as employees face digital fatigue.
Organizations today more than ever need to identify new, more engaging ways to communicate, including video and short-form visual content. Other visual cues, like push screensavers, meeting icons, custom Slack emojis and branded stickers, can also support engagement and provide culture-building moments of fun and connection throughout the work day.
CASE STUDY  |  University of Minnesota Health
Moving thousands of employees toward a single vision with change management communication.
Visual campaign E3 logo (Experience, Excellence & Engagement) and newsletter
Offer a consistent experience with visuals integrated across channels
The number of digital communication channels used by an organization's customers, employees, partners and other stakeholders has grown substantially. Audiences can enter into an experience with a company through various touchpoints, creating a need for cohesive, integrated communication. The visual brand should also be consistent and strategically aligned no matter where or when a customer, employee or other stakeholder interacts with the organization. This cohesiveness fosters a streamlined brand experience and deepens connections.
There are numerous mediums for visual communication, including interactive, video and static content. Organizations must assess which formats will best support their audiences through every phase of their brand journey. One of the most effective ways for companies to choose mediums is to include their visual communication agency or team in integrated communication planning. Involving designers early and often can help the business use the most effective visual elements to tell stories and build connections across channels.
Visual communication paired with an integrated communication strategy helps organizations stay consistent across every channel and interaction. This cohesiveness builds brand trust and provides a better user experience.
CASE STUDY  |  Minnesota Medical Association
Supporting physicians and patients across channels during the COVID-19 pandemic.
Series of social media graphics, animated PSA video and a resource toolkit webpage
• 3 •
Putting the strength of visual communication to work for your organization
Strategic visual communication aligns design to organizational priorities to evoke emotion, build connections and inspire action. It amplifies the impact of key messages. Strategic communication is impossible without graphic design that considers how to appeal to prioritized audiences and how those audiences consume content across the channels they use.
Internal design teams, visual communication agencies or other external partners that offer graphic design services should not only understand how design works but also how it can support strategy. Organizations must involve their designers and agencies early in the communication planning process. The designer's role is not simply to create deliverables but also to partner with the business to brainstorm how to best visually tell its story.
Given the increased access to easy-to-use design and video software, some organizations find it tempting to task employees not trained in design with creating graphics and videos. Access to design tools is an exciting trend in the consumer market, but it has also increased expectations for design. Consumers expect high-quality visual experiences from the brands they interact with because the overall quality of design has improved universally. Well-produced, thoughtful and custom design that connects to the organization's strategic priorities and considers key audiences is vital — and differentiating.
Prioritizing design needs
Visual communication is an investment for organizations to factor into communication budgets. Not every internal organizational initiative or marketing campaign will require the same level of design investment. Sometimes even well-designed documents, presentations flowcharts and org charts can go a long way in supporting written communication.
Organizations can consider the following questions when allocating budget for graphic design and data visualization:
What are the most important campaigns or internal initiatives this year? How can they benefit from design?
Which messages are most complicated to communicate? How can we simplify these through visual elements?
Which campaigns and initiatives have the potential to be emotional? How can we support these well with design?
What do we absolutely need to support with design? What would be nice to support with design? How can we build toward a more robust design function in the future?
Businesses don't have to transform how they approach visual communication immediately. Incremental changes over time can have a significant impact.
Working effectively with a visual communication agency or partner
There are numerous ways organizations can work with design partners more effectively, whether they choose to staff an internal design team, hire a visual communication agency or work with a strategic communication firm with built-in design services. Any communication firm the business chooses to partner with should have in-house design expertise to ensure visual communication is part of the strategy from the very beginning. This inherent design expertise enables organizations to deliver custom content that stands out in all the right ways.
The following recommendations can help organizations maximize their design investment for the greatest impact:
Empower design partners to play a strategic role. Bring design partners in to the communication process early and give them opportunities to ask questions and make recommendations. Keep them looped in throughout the process with multiple checkpoints, ensuring everyone is on a unified and consistent path forward that will result in high-impact communication and design. This elevates designers to strategic partners instead of simply relying on them to execute tactical requests.
Utilize a creative brief. A creative brief is a short document that outlines the strategy for a creative project. It includes details about the business need, targeted audience(s), tone of voice and desired outcomes — all critical elements to a strategic design process. Empower design partners to contribute to creative briefs by adding sections that support their work, including requesting that the organization identify campaign creative from other businesses they would like to emulate. Aligning on these project elements early enables more effective design output. It's also helpful at this stage to ensure everyone has a shared understanding of common graphic design terminology.
Consider how to support the entire content ecosystem with design. Map out the organization's full digital content ecosystem and work with designers to identify opportunities to use visual elements to elevate messaging across channels. Good designers will: 1) consider which audience the organization is trying to reach across each channel, 2) brainstorm the best design format for each channel and each audience's needs and 3) identify ways to extend visual content across several different mediums. For example, if the business decides to create an infographic, the designer can consider how to repurpose it for social media content or videos to extend the organization's budget.
Create a differentiated brand experience with graphic design
Visual communication aligned with communication strategies supports business goals. It creates understanding, facilitates engagement and encourages action. Visual communication helps bring an organization's purpose, mission and values forward, which unites a strong workforce of engaged and motivated employees who feel connected to the company's visual brand elements — its logo, colors, fonts and even its custom emojis and swag. It deepens connections with customers, which influences their brand loyalty.
Visual communication is inherent to all of Beehive's service offerings. Our in-house design expertise supports and elevates our client work to ensure communication efforts connect emotionally, are memorable and inclusive for diverse audiences. Are you interested in enhancing your communication strategies with strategic design? Let's talk.