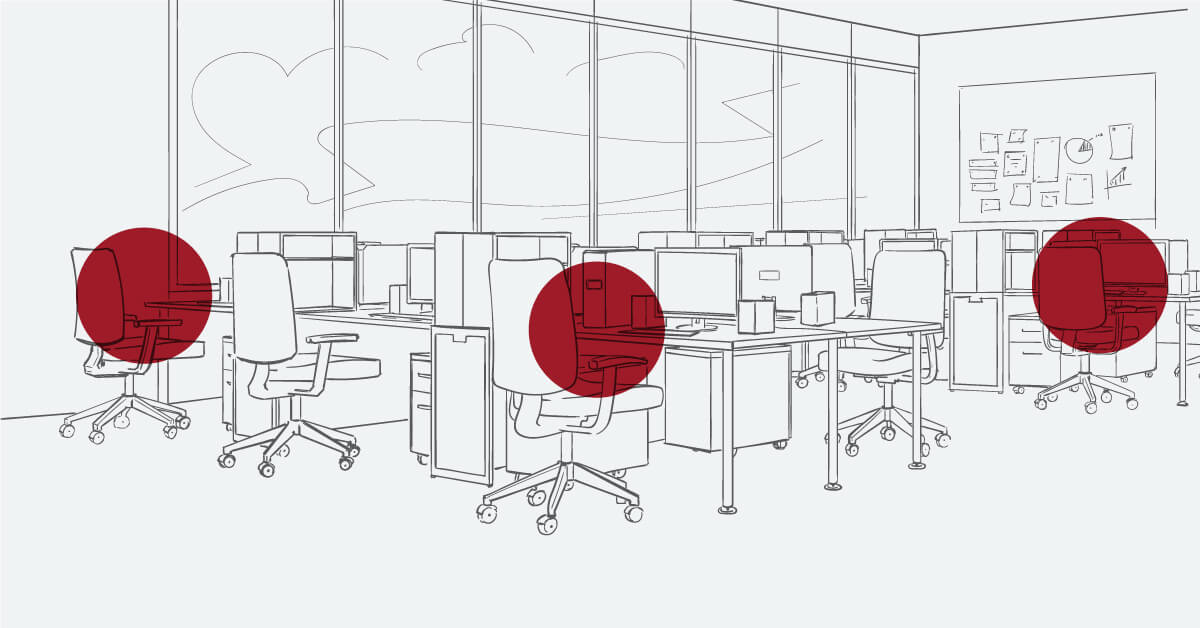 The COVID-19 pandemic disrupted life and work as we know it. It has been a period marked by rapid change for many organizations. Recent, widespread access to vaccines in the U.S. is allowing organizations to finalize office re-opening plans. Organizations must now navigate and support employees' expectations associated with a post-COVID "new normal." This means managing change associated with a shift in workplace arrangements, whether that means returning to the office full time, choosing remote/work-from-anywhere or transitioning to a hybrid model.
Trends point to a drastically changed workplace. Businesses are shaping their back-to-office plans with these trends and new employee expectations in mind. Experts predict much of the future workforce will work remotely, enabling many employees to work from anywhere geographically. However, not all employees will have the same opportunities to do so. Highly skilled and highly educated employees often have more options for remote work, typically given the nature of their jobs.
Organizations will need to address these new work-from-anywhere and hybrid schedule expectations in order to recruit and retain top talent. They must also set clear expectations and guidelines that fairly and equitably support workers who can't — or don't want to — work remotely or, conversely, return to the office full time. Businesses are entering a new season of change, just as they emerge from another one. This new season, like others before it, will benefit from effective change management.
Adopt an effective change management model
Work-from-anywhere (WFA) and hybrid schedules will create operational changes for organizations, including changes to workplace culture, technology, policies and procedures. Some of these changes are small, while others may cause significant disruption. Businesses that adopt a strong change management model and support it with change management communication will increase their likelihood for successful change, both big and small.
Beehive's change model of choice is Prosci's ADKAR model because of its people-centric approach that combines the psychology of individual change with organizational change. The ADKAR model includes five outcomes an individual needs to achieve in order for change to be successful:
Source: The Prosci ADKAR Model, Prosci
Manage workplace shifts with Prosci's ADKAR model
Organizations looking for guidance on how to manage change related to work-from-anywhere and hybrid office models can apply the following recommendations using the phases of Prosci's ADKAR model.
Awareness
Both leaders and employees alike need to understand why a change is necessary. In this case, why new models are the future of the workplace. The primary objective of the Awareness phase is to communicate this "why" across the organization to increase the likelihood that individual employees understand and ultimately adopt the change.
Enterprise-level awareness
Organizations should begin the change process by first creating awareness among leaders about why remote/WFA and hybrid office arrangements are emerging as a trend — and why they are here to stay. Leaders should collaborate during this phase to assess how the change will impact various parts of the business and determine how to address each change successfully. Key messages should detail the positive opportunities created by the shift and the negative business impacts if the organization doesn't embrace the change.
For example, pivoting to a permanent WFA or hybrid office environment may help the organization nurture a healthy workplace culture and maintain a competitive talent pool. Failure to pivot could lead to a high turnover of employees who instead find employers with more flexible work arrangements. Alignment at the leadership level also ensures the business implements new workplace schedule policies consistently and fairly across the organization.
Employee-level awareness
Organizations must next focus on creating awareness with employees for each change caused by the shift to WFA or a hybrid approach, including changes to technology, policies and procedures. It's critical to communicate why each change is good and necessary for the business and the employee. An example of a change within the larger new workplace schedule model could be an overhaul of the company's HR software and technology to support remote teams. A software change like this could have far-reaching impacts on every employee that accesses benefits information online or requests PTO.
It's also critical employees understand, at a high level, that these changes are going to fundamentally change how the business operates. New schedules and office workplace arrangements will impact each employee's work in some way, even if it does not affect them personally on a day-to-day basis.
Desire
Organizations that successfully navigate the Desire phase communicate why it's in the employee's best interest to participate and engage in the desired change. Enlist leaders and mid-level managers as change champions to communicate why the change is a good thing. The objective of the Desire phase is to answer the question, "What's in it for me?"
Knowledge
The Knowledge phase should provide employees with any training necessary to enable them to make the desired change. An organization has succeeded at this phase if, after it, employees can confidently say they know what they need to do next. This could mean providing training on how employees can submit PTO requests and make benefit changes within the new HR platform. Work-from-anywhere and remote work have replaced many in-person interactions with virtual ones, so it's also important employees understand the etiquette and behavior now expected across new digital tools and channels – both when everyone is remote and when some are remote and others are in the office.
Ability
The Ability phase assesses whether employees have the necessary tools, resources and skills to actually implement the change. It changes the Knowledge statement from "I know what I need to do next" to "I can do what is being asked of me." Survey employees to understand what's working and what's not. Employee feedback helps organizations identify gaps in their training and available resources, so they can make adjustments that improve employees' ability to adopt the change.
Reinforcement
The objective of the Reinforcement phase is for the change to become business as usual. The key to this phase — after having successfully navigated the previous four phases — is recognizing employees and teams adopting the change effectively.
Some organizations may double down on their recognition strategy by finding new opportunities to recognize or incentivize employees. This could be recognizing someone who embodies the company's purpose, mission and values while working remotely. Or, rewarding an employee who has stepped up to model company values and support a positive workplace culture among a team that still reports to an office or facility daily. Showcase these success cases across the company to encourage other employees to adopt similar behaviors and reinforce the expected and celebrated way forward.
How to manage change when WFA or hybrid become business as usual
Eventually, WFA and hybrid schedules will become business as usual, and organizations will have new changes to implement. Successfully managing these changes will come with new challenges. A less centralized workforce provides fewer opportunities for in-person change management communication and creates logistical challenges, like time zone differences and technology issues.
Organizations should think through what ongoing change management looks like in a changed workforce. How will they manage changes, effectively communicate with employees, live their values and still create camaraderie?
A strong focus on workplace culture and alignment to the organization's purpose, mission and values will support more connected teams — regardless of whether teams are together in person. Strong cultures make change management easier and more successful.
---