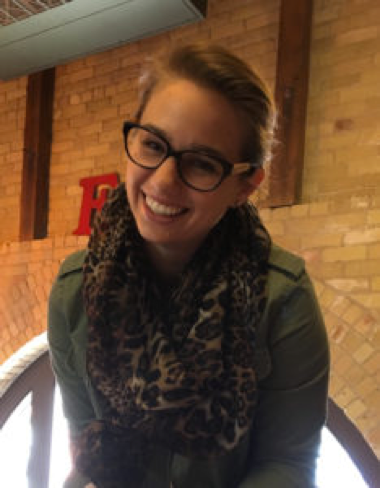 I started 2016 with a set of New Year's resolutions. At the top of the list: find a new job. I'd been at my first full-time graphic design position for just 18 months, and I was already unhappy. I felt creatively uninspired with the work I was doing – a dangerous thing in any profession, but soul-crushing for a designer.
After a month and a half of job searching, I came across a post for Beehive's graphic design internship. The posting promised everything I'd been looking for, but could I go back to being an intern again? The more I learned about Beehive, the surer I was that this was the place and position for me. I took the internship (obviously) and in the nine months since I have not once regretted it. I am confident the lessons I've learned at the Hive will forever shape my career.
Be Up for Anything
At Beehive, there is no typical day. One week you might be making phone calls to hundreds of malls across the country, the next you'll be delivering popcorn tins through a hospital you've never been to and most definitely will get lost in. Throughout my internship I completed many design projects, but when help was needed with things outside the design realm, I didn't shy away. Being in service of your clients and colleagues can mean working outside your comfort-zone at times, and you have to be up for anything.
Do What You Can to Be Your Best Self
Sometimes life doesn't go your way. Sometimes you're battling what feels like the cold to end all colds, and no matter how many decongestants you take your d's still sound like b's. Sometimes your emotions get the best of you. I learned from the Beehive team that it's important to take care of yourself so that you can take care of your clients. If that means taking a break in the middle of the day to meditate or take a walk, starting the week off with yoga, or working from your couch so your sickness only lasts for two days instead of seven, do it. Doing everything you can to bring your A game each and every day won't just improve your quality of work, but also your quality of life.
Never Pass Up an Opportunity to Learn
Whether it's a new project, a client, or a team member, there are endless opportunities for learning and growth. Most of the time these opportunities are obvious, but sometimes they can pass you by if you don't take time to reflect. Approaching each day (and task) as a chance to learn will set you up for meaningful career growth.
It's lessons like these that made the Beehive internship the most rewarding experience of my career. If you're looking for a great opportunity to gain real-world experience, learn from the smartest group of people I've ever met and have fun while you're at it, the Beehive Internship program is for you.
---